REGION 19 SUPERINTENDENT OF THE YEAR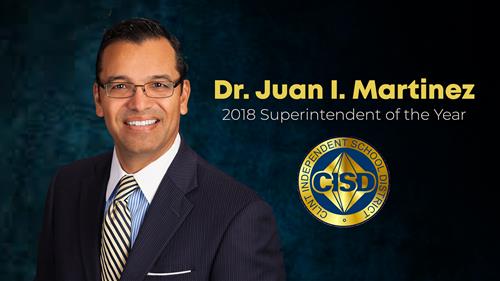 Dr. Juan I. Martinez, Clint ISD Superintendent, was named as a finalist for the Texas Association of School Boards' Superintendent of the Year (SOTY) award. Local regional selection committee submit public school administrators from across Texas. In July 2018, Region 19 named Dr. Martinez the Region 19 Superintendent of the Year.

Dr. Martinez, who holds a Bachelor of Administration in Computer Information Systems and a Masters in School Administration, earned his Doctor of Education from the University of Texas at El Paso in 2017.

Dr. Martinez serves a population of about 11,500 students. He has been in education administration for 24 years and has served as superintendent of Clint ISD for five years. The Texas Association of School Boards (TASB) committee noted Dr. Martinez's sense of accountability for the district's success and his view of his role as one of service. The committee also noted Clint ISD Cradle to College program through which the district reaches out to new parents with books to start their child off on the right foot.

"The most concise way to convey his worthiness for this award would be that Dr. Martinez goes the extra mile for our students. Every decision, action, and initiative has them in mind," said James R. Pendell, Clint ISD Board President.

The TASB Superintendent of the Year Award honors outstanding administrators for achievement and excellence in public school administration. Honorees are leaders who exhibit exemplary and visionary leadership toward improving student performance. They are chosen for their strong leadership skills, dedication to improving the quality of education in their Districts, and commitment to public support and involvement in education.

Clint ISD congratulates and celebrates Dr. Martinez for his nomination, as he represents Clint ISD and Region 19 for the Texas Association of School Boards (TASB) State Superintendent of the Year Award in September at the 2018 TASA/TASB Convention.