Return to Headlines
Joshua R. Macias, Attorney at Law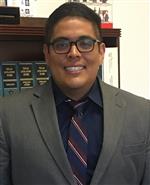 Joshua R. Macias, Clint High School Class of 2007, discusses high school times and his profession as an attorney.
What activities were you involved in while at the school? Did you receive any awards? What were your favorite classes?
I was involved in Football, Basketball, Go-Center. I was also the President of NHS, Historian for Clint High School TAFE program, Track, and Golf. I was First Team Academic All -State, Voted to the Area All-Star Game and Second Team District 1-3A in Football, I received the Outstanding Athlete Scholarship and Award, Mr. CHS, Lion Heart Award and was Salutatorian of our graduating class of 2007.
Some of my favorite classes included the dual credit courses and the AP Biology with Mr. John Wilson
Who were your favorite teachers and why?
It has to be a three-way tie between Coach Frank Durant, Coach Rosvel Martinez and Mrs. Jan Moore.
Coach Frank Durant continues to be an inspiration in my life because of the battles I witnessed him endure personally, and how those battles not only made him a stronger person, but how he used them to empower and encourage other individuals around him. He taught me to strive for the best and let the higher power take care of the rest.
Coach Rosvel Martinez would easily be a close second, mostly because Coach Durant would be so angry if he were first. If I were to call Coach Durant a father figure, then Coach Martinez would be an older brother. Playful, wise, and somehow always found a way to relate to his students and players and get the best out of them. He could inspire someone to jump through a brick wall repeatedly and never bat an eye.
Mrs. Jan Moore was the kindest and hardest working teacher I ever saw. I only had the pleasure of having her as a mentor and an adviser for some extra-curricular activities, but that was all I needed to know that she was a special teacher and person. It didn't hurt that she made brownies for every meeting I attended. She would go above and beyond for her students and would have the time of her life doing so. She is the epitome of a caring individual.
What is your best memory of High School?
My best memory of High School is the people. I was very lucky to have such great classmates, teachers and friends in high school. From sitting outside under the trees at lunch to playing sports, I couldn't have asked for a better experience.
What have you been doing since you graduated from High School?
Since I graduated High School, I attended college at the University of Texas at San Antonio and received my Bachelor of Arts in Political Science and English. I attended Law School at St. Mary's University School of Law and received my juris doctorate. Somewhere in between there I experienced so many different things ranging from jumping out of an airplane to sitting through a bar exam. I have made invaluable connections and have received one the greatest titles of all in becoming an uncle.
What is your profession?
I am currently a licensed attorney for the state of Texas. I work as a general practitioner meaning I am a jack of all trades when it comes to legal problems. I have done work ranging from personal injury work, real estate transactions, wills and estates, Family Law, even traffic tickets. You name it, I've probably done something like it or I can find someone who has.
What steps or educational path did you take to get to where you are now professionally?
I had to attend college for 3 and a half years, take an LSAT exam in order to apply for law school, 3 years of law school and a bar exam in order to be a licensed attorney for the state of Texas. All while somewhere in there maintaining some sort of job to get experience and any other group activities I was involved in.
What would you like to share with the Clint ISD Community?
If I've learned anything from my time in Clint ISD, it was to learn from your failures, not to dwell on them and to celebrate your victories, no matter how small they may seem.