Return to Headlines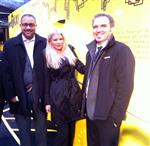 What year did you graduate from what High School?
Class of 2004 – Clint High School
What activities were you involved in while at the school? Did you receive any awards?
While at Clint High School I was in choir, the class president my junior and senior year, UIL One Act Play, UIL Prose Interpretation, National Honor Society and the Environmental Club. For the most part I participated in these activities all four years. Every year for choir I made it to the state level competition for Solo & Ensemble, for One Act Play I won the award for Best Actress, I placed 1st for UIL Prose Interpretation several times and I made it to the state science fair my senior year.
What were your favorite classes? Who were your favorite teachers?
I really enjoyed my English classes, where I was able to write and read interesting stories, I remember writing over twenty pages on the Big Foot conspiracy theory. I also enjoyed my science classes: biology, chemistry and anatomy; they were challenging but interesting and I still use some of the stuff I learned in those classes. Whenever I want to sound smart, I explain what the hypothalamus does!
My favorite teachers were my coaches and sponsors for all of the activities I was a part of, those were the teachers who went above and beyond! They would spend their evening and weekends doing extracurricular activities with us, in retrospect that is a huge sacrifice of time and energy. If I knew then what I know now, I would have thanked them for what they did.
What is your best memory of High School?
A memory that really sticks out is when we had a battle of the bands and my band played. I had my friend change the lighting on the stage so that it got dark and we played some metal music. Half the audience got scared, the other half got rowdy (and in trouble)! Of course we did not win, but it was a lot of fun.
What have you been doing since you graduated from High School?
I have really been focusing on school and my career. As soon as I graduated from high school I went to UTEP and graduated with my degree in Communications, Media Advertising. After I graduated I worked at an international marketing agency where I handled corporate clients like Nissan, Walmart and Bayer. There I provided mostly public relations and event marketing support for my clients across the country; it was a lot traveling. I also worked with my coworkers in Mexico and Japan to create communication plans and brand development for organic healthy food products. From there, I became the Director of Marketing for Pedi360 a pediatric management group, I would help pediatricians and other doctors market their practices. I also promoted night clinics and helped launch the openings of new clinics in El Paso and Dallas. Right now, I work for an Army organization called System of Systems Engineering and Integration as a Public Affairs Officer. We modernize technologies for the Army, so they can have things like computer file sharing while out in combat. I learn about what we do and from there write stories, take pictures, make video packages and send out the communication messages to the public. I also ensure that VIPs coming from the Pentagon are taken care of when they visit us at Fort Bliss.
What is your profession? Please describe.
I consider myself a communications professional. My job is to figure out what companies and organizations want/need to communicate to the public or even internally and create a message for them. I also figure out what is the best way to deliver that message. I have done press conferences in New York, television interviews in Los Angeles and even cleaned up communities in Las Vegas – each event had a purpose and is a platform for the particular message that our client wanted to get out. If my clients wants a larger digital presence, I help them develop a website and social media or if they need a more positive image, I reach out to the community and get them to help out those in need.
What steps or educational path did you take to get to where you are now professionally?
I locked my keys in my trunk…that is how I landed my first job at a marketing agency. I was helping put together a Hispanic Marketing conference at UTEP and was tasked to pick up some of the speakers at the airport. It was about an hour and a half until one of the speakers, Victoria, the CEO for one the largest marketing agencies in San Antonio, had to speak. As I put her luggage in my trunk, I locked my keys in there as well! I acted calm and collected, but inside I was dying and about to cry. I got my car unlocked in record time and she made it to her speaking engagement.
It turned out she was impressed that I was able to work well under pressure and she had me working for her before I even graduated! I ended up working directly with her for about four and a half of the craziest years of my life, learning as much as I possibly could. I took advantage of all the opportunities I was given while working at the agency and now that I am working here in El Paso, that experience helps me every day. In order to further my career, I am currently studying to get my Masters of Business Administration.
List any accomplishment you would like to share.
In the past year, published 14 news articles and several photos on Army technologies
Was chosen as, "Employee of the Quarter" at current position, despite working there for less than a quarter
In 2013, ambitiously opened two Pediamed Night Clinics in El Paso & three in North Texas in under six months.
In 2010 began and implemented a "green" clean up initiative for Nissan, in multiple cities across the nation, in 2012 expanded the program to include a segment on educating the community on social responsibility
In 2009, was part of agency team acquiring 12+ brands in less than 6 months of operation during the economic recession
To the current students, whatever subject or activities you enjoy doing, find out what career it can lead to and work that path. I never knew that my acting and singing would help me with my career, but since I did those things, public speaking is easier and I have good work ethic. Being a part of clubs helped me become a leader, work well with others and become self-motivated.
Life after (and during) school is not about being cool or popular, it's about working hard and using the skills you have been taught to become your personal version of success. Define what success means to you and work towards that, don't let others define it for you. If I had cared about what others thought about me, I would not have been such a "choir nerd" or spent my senior year working on a science project, but doing those things made me proud of myself and crave continued success!
To all my past teachers and administrators, thank you! Especially those who really helped shape who I have become.
Photo- While usually behind the scenes, Vanessa Flores poses at a press conference in New York City with Juan Guillen, LatinTRENDS Magazine Editor and Francois Farion, designer of the "Nissan Taxi of the Future"