Return to Headlines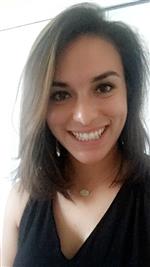 What year did you graduate from what High School?
2008
What activities were you involved in while at the school?Did you receive any awards? What were your favorite classes?
I played a lot of sports in high school including: Volleyball, Basketball, Track and Cheerleading. I was also part of organizations such as: NHS (president) and Student Council.
I did receive scholarships during my senior year, some athletic, some academic. I was named the Optimist Club Senior Girl of the year in 2008 and was named Valedictorian of my graduating class. I was also inducted into the Athletic Hall of Fame for the El Paso County 3A region.
All of the math courses I took were usually my favorite. Along with science and of course, athletic periods!
Who were your favorite teachers and why?
Mr. Wilson - he was tough on the basketball court and patient in the classroom. He made every assignment/project interesting and fun.
Mr. White - tough on and off the basketball court but I can't count how many great things I learned from him.
What is your best memory of High School
Any and all of our basketball tournament trips. Created friendships to last a life time.
What have you been doing since you graduated from High School?
Went on to graduate from the University of Texas at El Paso with my Bachelor's in Mechanical Engineering in 2013 then began work at USAA in San Antonio as a software engineer.
What is your profession? Please describe
I am currently a software developer and integrator at USAA. Every day is different and exciting but, for the most part, I work to integrate applications into our USAA environment to keep our technology modern and competitive to serve our members the best we can.
What steps or educational path did you take to get to where you are now professionally?
Going to college was a no-brainer for me, I knew that it was necessary to hold any type of position that I would truly enjoy and to be set financially as well. During college I began to look into companies that I wanted to work with and as graduation got closer I began to interview, visit and talk to them as well. Upon graduation I had three job offers to choose from and USAA was an easy pick.
I grew up in Clint; went to Surratt, CJHS and graduated from Clint HS. I truly believe the entire journey helped shape who I am today. The relationships that were created at Clint, the memories and the lessons learned are all integral to where I am. San Antonio, TX may be where I lay my head at night but Clint, TX will always be home.