Return to Headlines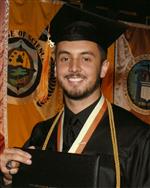 Jose Rivera Jr., 2011 Alumnus of Horizon HS, tells us about his high school years and the steps he took to becoming an Engineer.
What activities were you involved? Did you receive any awards? What were your favorite classes?
I played Varsity Basketball along with some Track and Cross Country. Aside from this, I played in city soccer leagues with my friends outside of Horizon High School and also worked part time at the local Walgreens there in Horizon City.
I graduated number 6 of my class in 2011.
My favorite classes would have to be AP Calculus with Mr. Amador and Dual Credit English with Mrs. Cuellar.
Who were your favorite teachers and why?
My favorite teachers actually coincide with my favorite classes. Mr. Amador really helped me understand and actually enjoy Calculus which is one of the main reasons I chose to study engineering. Not to mention the fact that when I was there, Horizon's math teachers really helped me enjoy math from Mr. Zamora, Mr. Hoffman to Mrs. Garcia's Pre-AP Algebra II class.
English was one of my weakest subjects, but having Mrs. Cuellar since my sophomore year really helped me grasp the English subject.
What is your best memory of High School?
The best memories have to come from my basketball games and graduation. I know I will not be able to replicate the feelings I would get right before a basketball game, for now I will just have to continue playing with friends in my free time.
What have you been doing since you graduated from High School?
I knew right away I wanted to do engineering and what better place than UTEP's Electrical Engineering program. I graduated from UTEP in 2015 with the Runner Up plaque award for the Electrical Engineering Class of 2015.
During UTEP I also continued to work at the local Walgreens and even moved up from stock boy to a full-time Pharmacy Tech in Training where I handled prescriptions and medications.
I also had 2 summer internships at White Sands Complex where I worked as a Systems Engineer for a company named Exelis at the time that was doing contract work for NASA.
What is your profession?
After graduation, I decided to move to Dallas, TX where I now work for NOKIA as a Telecommunication Engineer and mainly work with computers and the cellular network. We set up and monitor the networks for various major cellular providers, such as T-Mobile, Sprint, AT&T and Verizon throughout the US and the Latin countries.
What steps or educational path did you take to get to where you are now professionally?
The steps I took were outlined by figuring out what I was good at, math, which field had the most math, Engineering, and finally what I enjoyed working with the most. My educational path took a lot of dedication and patience, but in the end I feel Horizon's educational system really prepared me for the college courses I took at UTEP which gave me the first step to where I am today.