Return to Headlines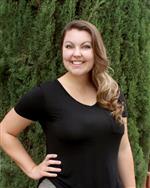 What year did you graduate? I graduated from Horizon High School in 2009.
What activities were you involved in while at the school?Did you receive any awards? What were your favorite classes? I participated in NHS, Student Council, and was also captain of the varsity cheer squad for two years. I graduated salutatorian of my class and also received a Scorpion award at graduation. Mr. Garcia's Anatomy class senior year was one of my favorites, and one in which I learned most, even though the dissections were not my favorite!
Who were your favorite teachers and why?
​Mrs. Salas AKA Mrs. Horizon. Mrs. Salas always supported everyone and any/all school sponsored activities. To this day I see her at several athletic events cheering on her Scorpions.
Ms. Garcia (Pre-Cal), although I am by no means a "math person", I enjoyed attending Ms. Garcia's class. I knew that there were high expectations in her classroom, that I would learn something knew everyday and would always be challenged.
Ms. Hayes (Yearbook and Newspaper), these were very fun courses in which we got to learn about journalism and practice skills outside of the core curriculum. I think everyone loved Ms. Hayes; her concern for students and the ability to make us all laugh.
What is your best memory of High School? It is hard to choose only one memory from high school, if I could it would probably be my whole senior year and all of the events that went along with it. One specific memory that stands out to me, were Friday Football Pep- Rallies. The drum line, football team, cheerleaders, and Stingers would make their way through every hallway of the school. Once they passed your classroom that was your dismissal to the pep-rally students would then join in at the end of the parade line. Everyone would follow until we reached the gym and the pep rally would begin. These were great times which really raised the moral and pride of the student body as a whole.
What have you been doing since you graduated from High School? After graduation I attended UTEP on a Presidential Scholarship. I graduated Fall of 2012 with a Bachelors of Arts in History with a minor in Secondary Education. Upon graduation I received the Outstanding Graduating Senior Award for the History department as well as the Outstanding Graduating Senior Award for the Teacher Preparation Department. Shortly after graduation I was hired at Clint Early College Academy. A semester after being hired I decided to continue my education and pursue my Masters degree. I just completed my Masters degree in Reading Education this summer!
What is your profession? Please describe I am a PROUD teacher at Clint ISD Early College Academy, GO PATRIOTS! This is my 4th year teaching. I currently teach World Geography, World History, and sponsor Student Council. Although teaching can be a challenging profession, the awesome students of Clint ISD make it all worth it! I love teaching and cannot picture myself doing anything outside of the realm of education.
What steps or educational path did you take to get to where you are now professionally? Throughout my college career I was a substitute teacher for Clint ISD, this allowed me to work across many different grade levels and campuses around the district. This also allowed me to practice my craft of teaching (and everything that goes along with it), as well as network. After graduation I was hired at CECA as a World Geography teacher and have been here ever since!
Please add any additional information you would like to share with the Clint ISD Community I am so happy to have been given the great opportunity to serve the students of Clint ISD. I am proud that I am now employed by the district that was at the foundation of my education. To all of my Clint ISD teachers, THANK YOU. I now understand how much teachers truly invest into their profession, especially those who sponsor various clubs, teams, activities, and events for students. I now understand all of the extra time and hard work that goes into making all of these things possible for your students, I now know that it is not easy! Thank you for all that you do!