Return to Headlines
What year did you graduate from what High School? 2008, Horizon High School
What activities were you involved in while at the school? Did you receive any awards? What were your favorite classes? Section leader-Symphonic Band, Marching Band, Jazz Band, Band Vice President; National Honor Society-Vice President, Class President, First student from Horizon to qualify and compete at the state level for solo and ensemble competition, Multiple Science Fair sweepstakes awards, Valedictorian, I loved band, it was like a family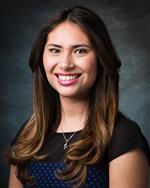 Who were your favorite teachers and why? Mr. Amador stands out to me, he was my calculus teacher. He always took the time to make sure I understood the material even if it meant staying with me after school, helping me during lunch, or coming earlier in the morning. As a result of his dedication to my learning, I was able to pass the AP Calculus test and didn't have to take that class in college.
Ms. Sanchez was always great as well, she proofread my papers and was willing to help even beyond high school.
What is your best memory of High School?Standing next to my parents in my band uniform during half time of the homecoming football game, when I found out I was Homecoming queen, is one the best high school memories. It meant so much to be able to celebrate that moment with all of my friends and family in that all too familiar football stadium.
What have you been doing since you graduated from High School?Right out of high school I went to UTEP. While in college (2010), I got married to an amazing man, Frank Ramirez (also a Clint ISD graduate-Mountain View), who has always supported all of my dreams and works incredibly hard to spoil me and make me happy. After college, I was accepted into medical school and will be graduating next May. I love doing volunteer work through my church, LIFE church, and with family. This includes doing work for different charity organizations throughout the city and in Juarez. I also love spending time with family, especially my 10 year old sister, Yaeli, whom I'm very proud of.
What is your profession?I am currently a 4th year medical student at Texas Tech Health Sciences Center El Paso Paul L. Foster School of Medicine. I will graduate with an MD degree on May of 2017 and will be moving on to a residency program in Pediatrics. My goal is to be a general pediatrician in our underserved city of El Paso and work with many families as they raise their children.
What steps or educational path did you take to get to where you are now professionally?
​I received a Bachelor of Science Degree from UTEP with a major in Chemistry and double minor in Biology and Spanish (largely due to all of the credits I was able to transfer from high school, thanks to the wonderful Spanish teacher Ms. Contreras). I was involved with the Medical Professions Organization at UTEP, which guided me through the whole process of applying to medical school. I took the MCAT (medical school entrance exam) and went through interviews, and finally acceptance into the school of medicine. I am currently working on my last year of medical school and am in the process of applying to residency programs for Pediatrics, which will be another 3 years.
One of the proudest moments has been watching my little brother, Misael Hernandez, graduate from Horizon High School and deliver his speech in 2014. He was Salutatorian, had been drum major, and was an amazing musician. He passed away a week after his graduation. Both his life and his passing have largely shaped who I am today. He continues to inspire me to do my best and be kind to others, and I miss him every day.